Voyager 8200 UC
Bluetooth Stereo Headset
Get comfortable while you concentrate
Immerse yourself in rich, clear audio
Stay connected so you never miss a call
Make it yours, and keep IT in-the-know
8200
Overview
When it's time to focus, get in the zone. The boomless Voyager 8200 UC Bluetooth® headset puts you there fast. Whether you're in an open office or on a crowded flight, active noise canceling (ANC) means you only hear what you want to. And did we mention its stylish, comfortable design? Whether you're listening to your favorite playlist or your client's voice, you'll be happy wearing the Voyager 8200 headset.
Benefits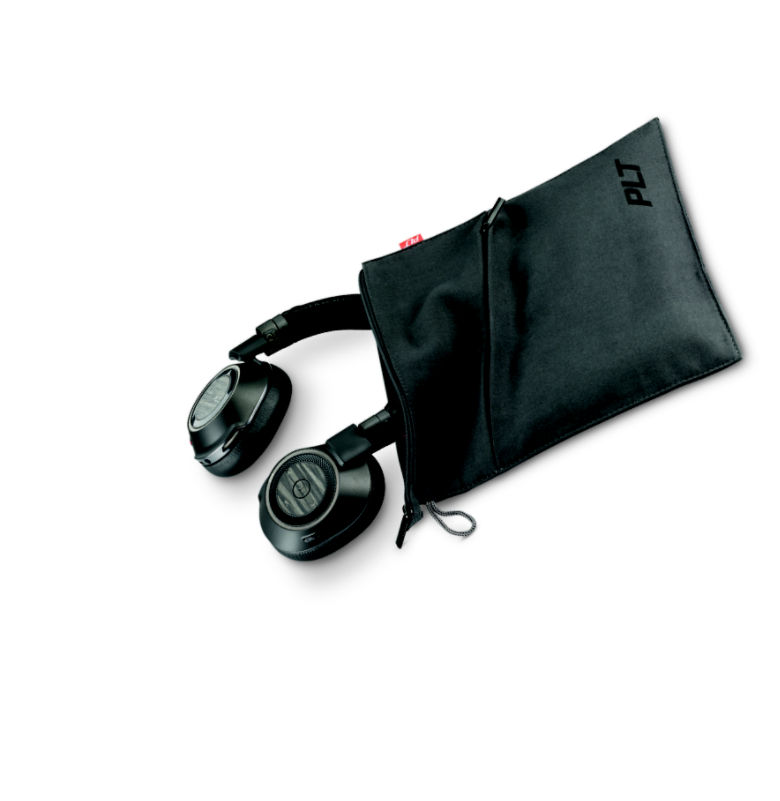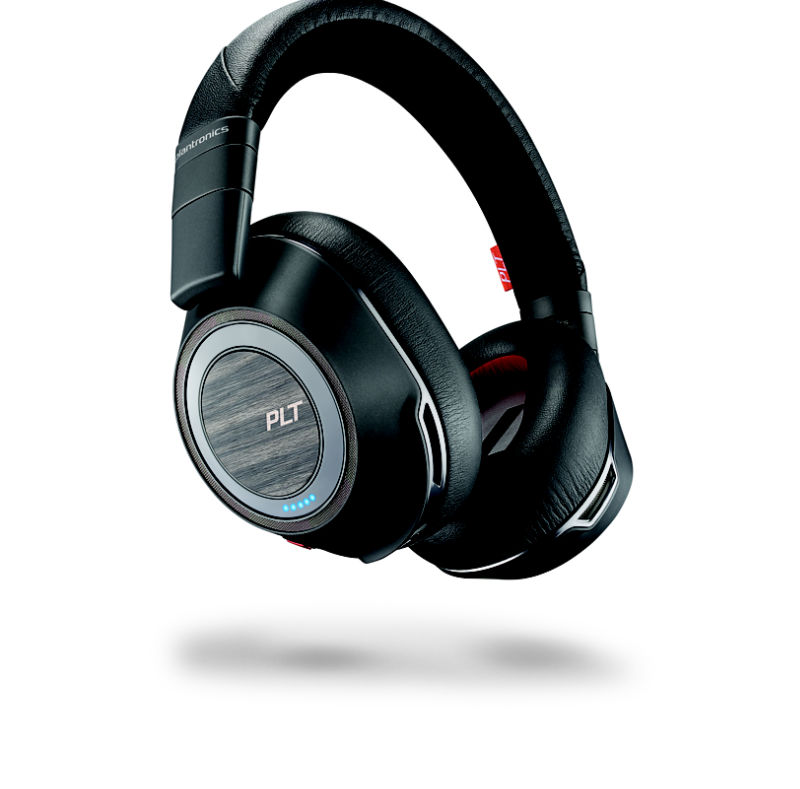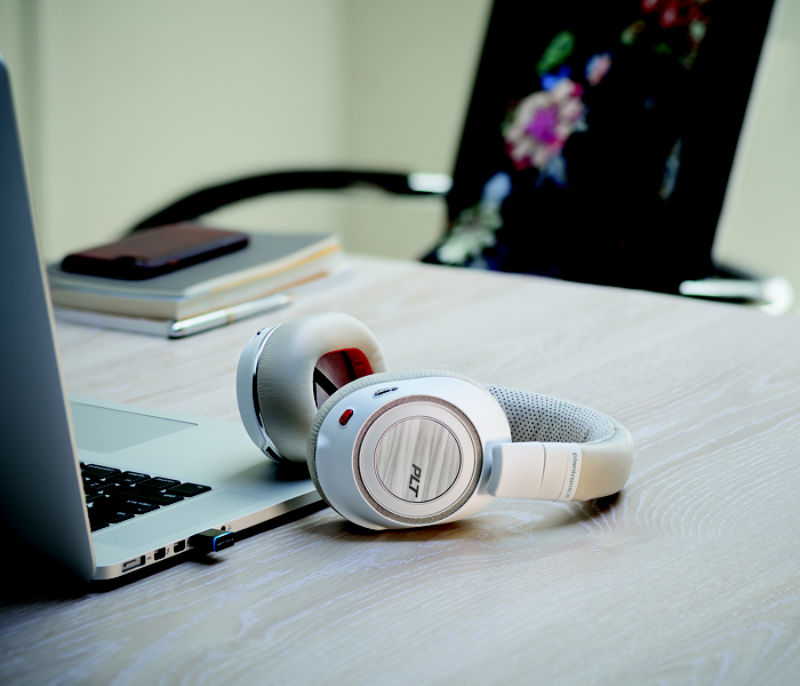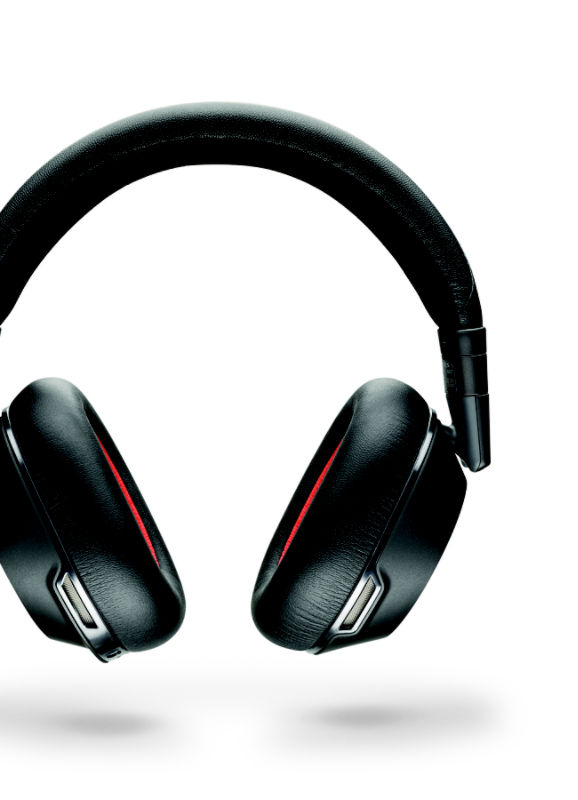 Concentrate in Comfort
Immerse Yourself in Rich Audio
Stay Connected
Make It Yours
Tune in to what matters. Block out background noise and look good with ANC in a sleek, boomless design. Plus, with soft ear cushions, 24 hours of listening time and 3.5mm audio cable, you can play music anywhere without distraction—and keep your ears happy. Comfort meets style.
Give yourself the gift of full, natural sound and complete clarity. Listen to music or hear conversations at their very best—from high to low tones and everything in between. Plus, hi-fi stereo and dual-mode ANC cut distractions while boom-free dual-paired microphones keep the focus on your voice.
Juggling two devices? Stay connected to both. To answer a call or play music, simply put your headset on. And to pause your media player or mute a call, take it off. Dedicated mute button also gives you the option to mute with a tap and be reminded with dynamic mute alert. It's your call.
Customize your headset with Plantronics Hub for desktop. Select language preference, feature settings and keep your device up to date with the latest firmware. And Plantronics Manager Pro gives IT teams remote management, headset inventory and usage monitoring. Stay in-the-know, and in control.
In my two weeks using [Voyager 8200 UC], I never had one person who I was on the phone with complain about not being able to hear me, which is actually a common complaint I have when taking calls on my AirPods… the Voyager 8200 UC is designed specifically for office workers who talk on the phone a lot.
8200
Specifications
Listen/talk/standby time

Up to 24 hours listen, 20 hours talk, up to 1 month standby time

Roaming range

Up to 98 feet (30 meters) with Class 1 enabled device

Audio performance

Dual-paired four mic DSP noise cancelling technology, dual- mode active noise cancelling (ANC) technology, mobile wideband compatibility, A2DP, AVRCP, HFP, HSP

Hearing protection

SoundGuard® DIGITAL: protects against sound levels above 118dBA; Anti-startle (during calls) detects and eliminates any large sudden increase in signal level; Time-Weighted Average prevents average daily noise exposure from exceeding 85dBA*

Headset control

Call answer/ignore/end/redial, mute, volume +/-, Bluetooth pairing, ANC 1/2, open mic, smartphone VPA access, power on/off

Model

B8200: Certified for Skype for Business and optimized for Microsoft® Lync®. Built for UC applications and softphones from Avaya, Cisco, Skype and others

Weight

Wireless frequency

Accessories Included

USB charge cable, 3.5mm audio cable, BT600 USB Bluetooth adapter, carrying pouch

NFC

Touch to pair with NFC-enabled devices

Bluetooth technology

Bluetooth 5.0 with BLE Bluetooth Profiles used: A2DP, AVRCP, HFP, HSP
8200
Related Products
Accessories
Recommended
Similar
8200
Resources
Voyager 8200 UC Data Sheet
Learn about the features, benefits and technical specifications of the Voyager 8200 UC.
تحميل Data Sheet
8200
Support
ابحث عن مواردنا وتنزيلاتنا وبرامجنا أو اتصل بالدعم للحصول على مزيد من المساعدة.
عرض كافة المساندة
مبيعات الاتصال
اتصل بنا عن طريق ملء المعلومات أدناه. سيقوم فريق المبيعات لدينا بالعودة إلى استفسارك في غضون 24 ساعة.