Hear the difference—right away.
Whether at your desk or in a conference room, land your point without missing a beat using the legendary audio quality of Poly for Zoom calls. Our phones are easy to use, and underneath their streamlined UI, they pack the most innovative sound technologies to capture voices clearly, block out distractions, and support natural conversations in a wide range of environments and scenarios.
Benefits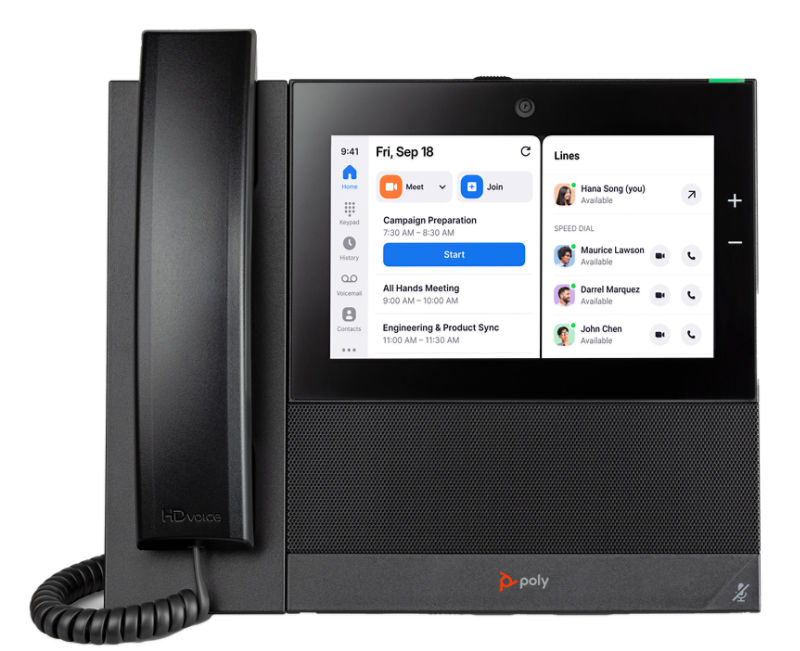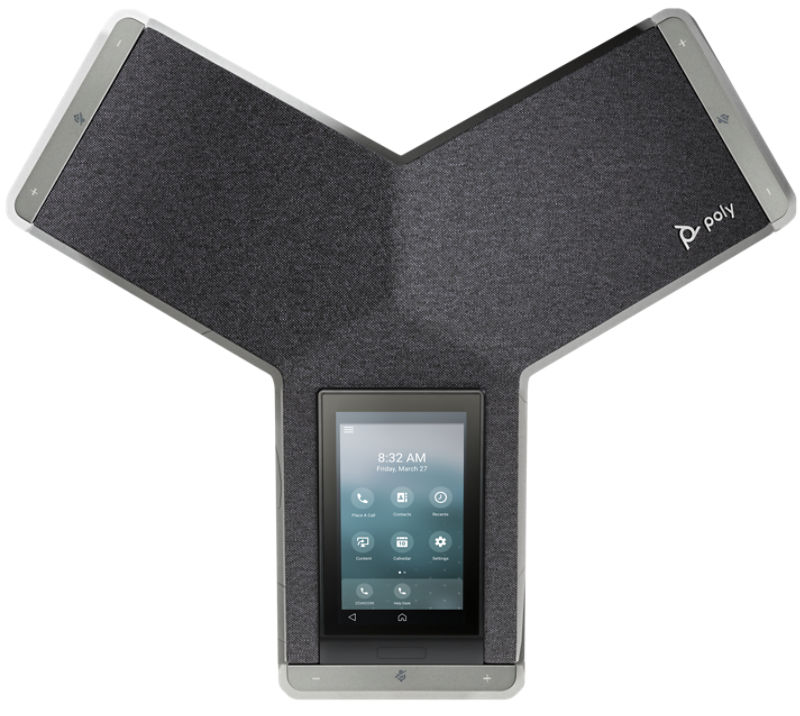 Native Zoom Experience
Fit to every workstyle
Don't miss a word
Block out the noise
Your best Zoom meeting — anywhere, anytime, every time
Poly and Zoom deliver the best blended audio and video experience with Poly CCX 600 and CCX 700 phones.
Access the features you need to drive your business.
We offer Zoom-integrated desk phones for people in front offices, open offices, and contact centers, and for knowledge workers and executives. And we have Zoom-integrated conference phones for different room sizes and types.
Make conversations flow more smoothly with unbeatable voice quality from Poly HD Voice. It delivers superior, high definition sound through industry-leading voice processing capabilities.
Reduce distractions and the stress people feel when having to fight through background noise with Poly Acoustic Fence. Its advanced noise cancellation technology works to keep conversations free from extraneous sounds, echoes, and distractions.
Smart conference phone for any meeting space

Smart conferencing for rooms of every size. Brilliant audio without interruptions. And the Trio C60 plays nicely with everyone, delivering native experiences on your favorite collaboration platforms.

Large room conference phone

Legendary voice quality. A familiar interface. Interoperability like never before. Poly Trio transforms any-size room into a hassle-free space for team collaboration.

Video with your performance business media desk phone

Feel the connection. Video is front and center on the Poly CCX 700 business media phone (Open SIP). An integrated video camera and a large 7" screen makes this the perfect phone for managers and executives. Count on Poly legendary audio quality so conversations stay on track. And it's easy to install anywhere—Wi-Fi is included. Now let's talk options. Choose a handset or no handset.

Performance business media desk phone with large color touchscreen

A larger screen can make all the difference. The CCX 600 business media phone boasts a 7" screen—perfect for managers and executives, and anybody who needs more room to do their thing. Count on Poly's legendary audio quality, so conversations stay on track. The CCX 600 is fast and responsive, designed with the latest powerful chipsets. And it's easy to install anywhere—Wi-Fi is included. Now let's talk options. Choose a handset or no handset.

Mid-range business media desk phone with color touchscreen.

Meet the new standard in touch screen desktop phones. The CCX 500 and CCX 505 business media phones have workers feeling confident they'll sound professional on every call. No word or inflection is missed, thanks to Poly legendary audio quality. Install anywhere with Wi-Fi included on the CCX 505. Robust provisioning and management capabilities take the headache out of telephony deployment and support.

Entry-level business media desk phone with color touchscreen.

Sometimes all you need is a reliable desktop phone with touch screen convenience. An always-on, always-ready phone you can always count on. The CCX 400 is an entry-level business media phone that's easy to use. Its interface is simple and intuitive. And contacts and meetings are one tap away on a color touch screen.

Twelve-line, color IP desk phone

Twelve-line, performance IP desk phone with color display.

6-line, mid-range IP desk phone

Six-line, mid-range IP desk phone with color display

4-line IP desk phone

Four-line, basic IP desk phone with color display

2-line IP desk phone

The VVX 150 business IP phone is a high quality, two-line, IP phone that delivers reliable performance and an enterprise grade sound quality. It is ideal for home offices or shared/common areas or any: locations that needs simple and reliable voice connectivity.

Bluetooth speakerphone with four directional microphones

For exceptional conferencing performance in a small group conference room, turn to the Calisto 7200. With plug-and-play connectivity and intuitive controls, it's always ready when you are.

Personal Bluetooth® speakerphone

Professional audio quality goes wireless with Calisto 5300. This personal, portable Bluetooth® speakerphone lets you sound your best wherever you're working—at home, remote or in the office.

Personal, corded speakerphone

Wherever you're working, turn it into a more professional-sounding space. The personal, portable Calisto 3200 corded speakerphone. Easy to use at home, remotely or in the office.
Brochure
Poly Solutions Guide for Zoom Phone
Command every Zoom Phone conversation with confidence.
Download Brochure
Brochure
Poly Solutions for Zoom
Never underestimate the power of clear audio and dynamic video.
Download Brochure
Video
Poly CCX Series Product video for Zoom
Review features of the Poly CCX series for Zoom
Next Steps
Ready to deploy a world-class communications solution? Poly is here to help. Contact us or a certified partner in your area today to get started.