Blackwire 3300 Series
Corded UC headset
Connect quickly and easily—just plug-n-play
Look good and feel good while you work
Get one for everyone and deploy fast
Make it yours, and keep IT in-the-know
Overview
The One You'll Want to Wear
Your headset is…well, on your head. All day long. Why not pick one that looks good, feels good and sounds good? Built for style with the audio quality, comfort and reliability we're known for, our Blackwire 3300 Series delivers the best value in its category. Connect to any device quickly and easily, and take it with you wherever you go. Boost your on-the-call confidence.
Features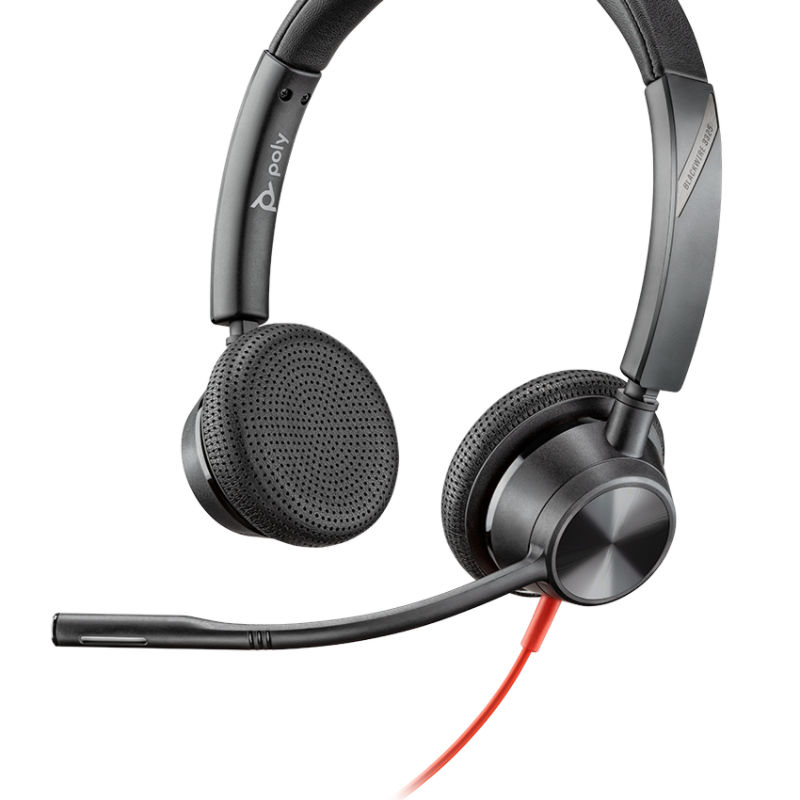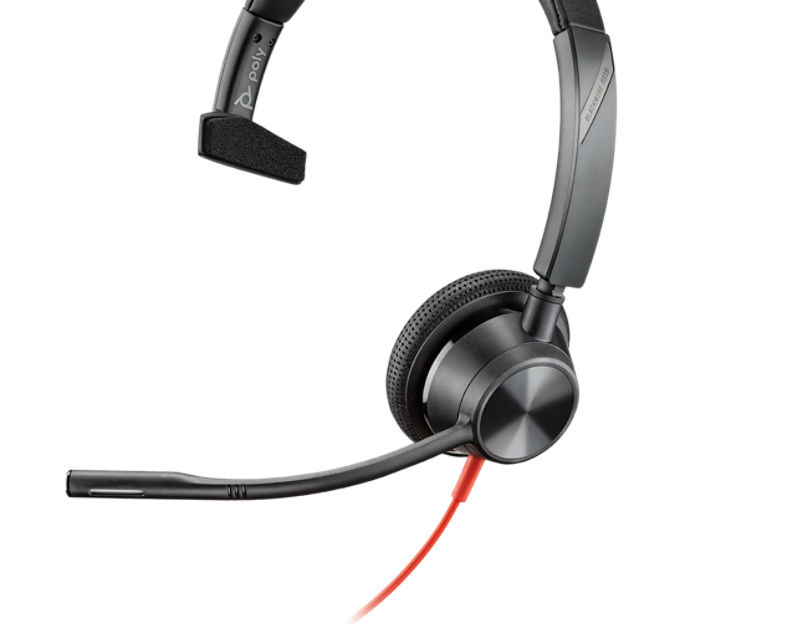 Connect Quickly and Easily
Look Good and Feel Good
Get one for Everyone
Make it Yours
Simplicity meets flexibility. Plug-n-play with USB and your favorite device. Robust design delivers reliability you can count on. Plus, Blackwire 3315/3325 models come with leatherette ear cushions, travel pouch and 3.5 mm connector for mobile or tablet. Take calls in-the-office or on-the-go.
It's easy to see why everyone loves the Blackwire 3300 Series. The sleek, modern design looks as good as it sounds, so you'll want to wear it—and your investment pays off. Crisp audio paired with all-day comfort lets you handle any call with ease. Choose the headset your whole team will thank you for.
Think this combination of style and quality is out of reach? We've got good news. The Blackwire 3300 Series comes with an affordable price tag, so you can invest wisely without breaking the bank. Plus, it deploys quickly and easily—and it's built for enterprise needs. Everyone wins.
Customize your headset with Plantronics Hub for desktop. Select language preference, feature settings and keep your device up to date with the latest firmware. And Plantronics Manager Pro gives IT teams remote management, headset inventory and usage monitoring. Stay in-the-know, and in control.
All Poly USB headsets and personal speakerphones are compatible with the most popular voice platforms – we just work. Poly solutions provide excellent audio quality for both you and those on the other end of the call – no matter your platform of choice.
Poly is certified (when offered) with all major communication platforms.
Specifications
Connects to

PC via USB/USB-C, connects to mobile devices and tablets via 3.5 mm (BW3315/BW3325) and devices that support USB-C

Compatible with

PC Audio Receive Frequency Response

Dynamic EQ optimized for PC wideband voice telephony up to 6.8kHz or for multimedia 20Hz to 20KHz (Hi-Fi Stereo BW3320/BW3325)

Hearing Protection

SoundGuard: Acoustic limiting for protection against sounds above 118 dBA. G616 support limits the level to 102 dBSPL

Microphone and Technology

Flexible noise canceling microphone

PC Audio Microphone Frequency Response

100Hz to 10kHz optimized for PC wideband audio up to 6.8kHz

Remote call control

Call answer/ignore/end/hold, redial, mute, volume +/-
Resources
Blackwire 3300 Data Sheet
Learn about the features, benefits and technical specifications of the Blackwire 3300.
Download Data Sheet
Blackwire Family Comparison Guide
Check out a side by side overview of each product in the Blackwire Family.
Download Comparison Guide
Acoustic Protection
Blackwire 3300 Series features Soundguard to protect against acoustic shock by limiting sounds to below 118dBA (USB mode only)
Learn More
Support
Find our resources, downloads, and software, or contact support for more assistance.
view all support
Contact Sales
Contact us by filling out the information below. Our sales team will get back to your inquiry within 24 hours.