Accessibility
Skip to content
Contact center customers use analytics to improve the customer experience. Leverage the power of analytics to influence business results with unique data captured directly from the headset.
Drive Adoption
Improve the quality of conversations by identifying individuals and/or physical locations where the percentage time of overtalk during conversations is higher than normal – for both softphones and now deskphones with the MDA500 QD Series – regardless of your contact center system. 
Get the insights you need to maximize efficiency and deliver an exceptional customer experience.
Benefits
Benefits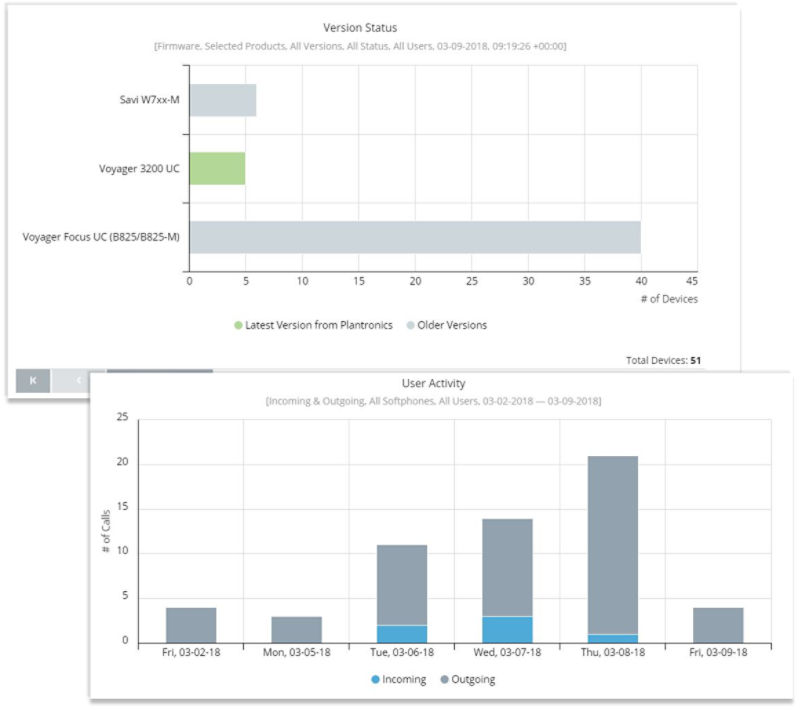 Conversation Analytics
Common Actions
Lifecycle Management
Health & Safety
Track conversations to gain insights into who is doing most of the talking, identify long pauses of silence and watch for instances of "overtalk," where both sides of the call are talking at once. Watch for patterns of behavior that may indicate a training opportunity. Increased 'Silence' can indicate slow running systems and reduce agent productivity. Increased 'Over Talk' can indicate the agent talking over the customer.
Track user behavior patterns related to mute, volume and Quick Disconnect functionality that may hold insights for training and performance. Increased mute could indicate an agent that required additional training. High volume up activity could indicate users that are having difficulty hearing the call.
With hundreds—even thousands—of headsets to manage, dealing with individual needs can be time-consuming and labor-intensive. Plantronics Manager Pro offers a powerful solution to configure settings, update audio device firmware and help troubleshoot issues. It also provides detailed inventory and adoption reports to help you keep track on your investment. Track firmware versions in an easy to use report to ensure compliance. See how many compatible devices there are in your organization as well as their status.
Employees are your most important asset, ensuring their health and safety is your top priority – For over 50 years, Poly has been dedicated to creating headsets that provide customers with a safe audio experience, without sacrificing quality. We have been setting the standard for the industry. Identify any trends or increases in acoustic events across your organization or via department – to quickly identify issues that may impact your employees health and safety. Demonstrate to your employees that any loud sudden sounds were limited to a safe and comfortable level by the supported Poly headsets.