Trio C60
Smart conference phone for any meeting space.
Poly signature audio
Meeting initiation with one touch
Simple, easy control of your Poly room video solution
Poly Trio C60, IP Conference Phone, MSFT Teams
Poly Trio C60, IP Conference Phone, MSFT Teams
C60
Overview
One device. Many possibilities.
Transform any room into a hassle-free collaboration space
Bring people together. Launch big ideas. And make sure everyone at the table can be heard, near or far with Poly signature audio. NoiseBlockAI means speech flows naturally, without interruptions. Expansion microphones deliver brilliant audio for even large conference rooms. It's built for simplicity –for audio conferences or when paired with a Poly video room solution. Best of all, it's super easy to use—launch and join meetings at the touch of a button. And the Trio C60 plays nicely with everyone, delivering native experiences on your favorite collaboration platforms. So simple, so powerful.
Benefits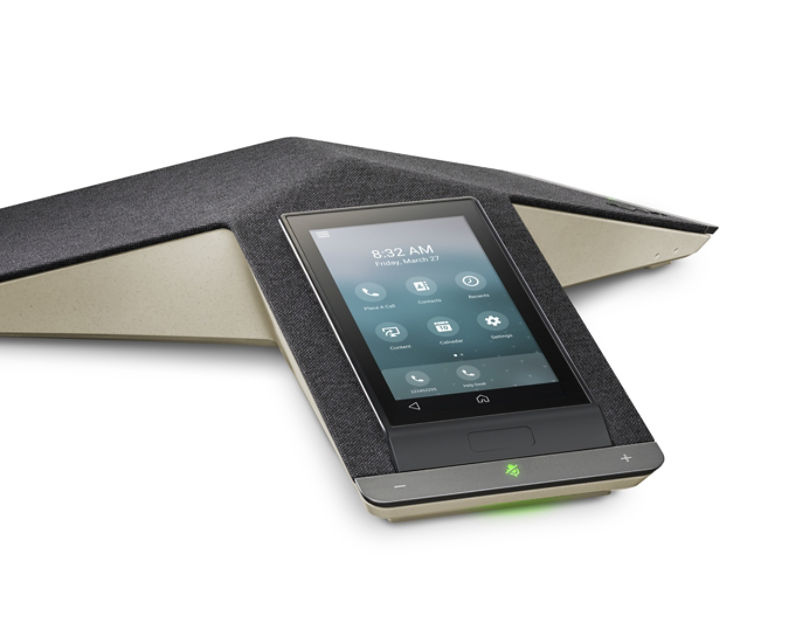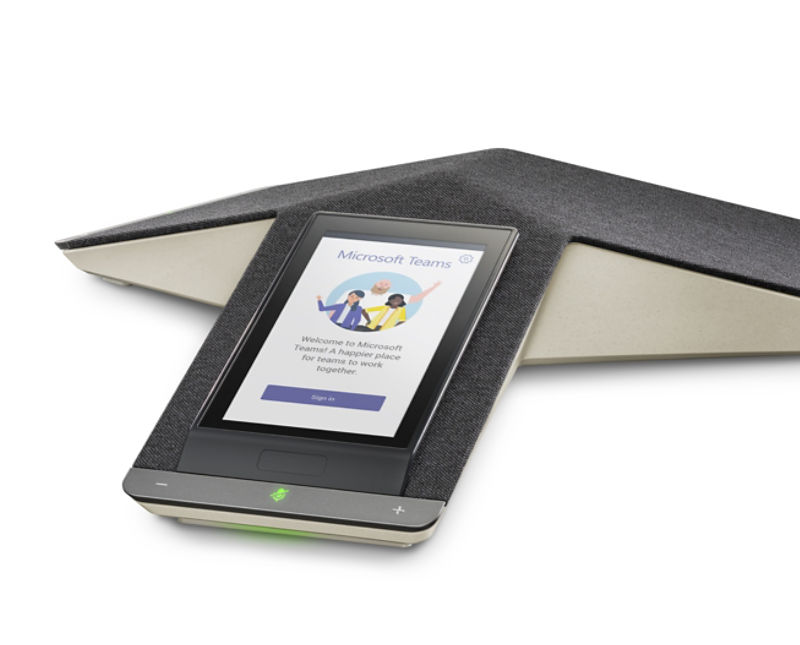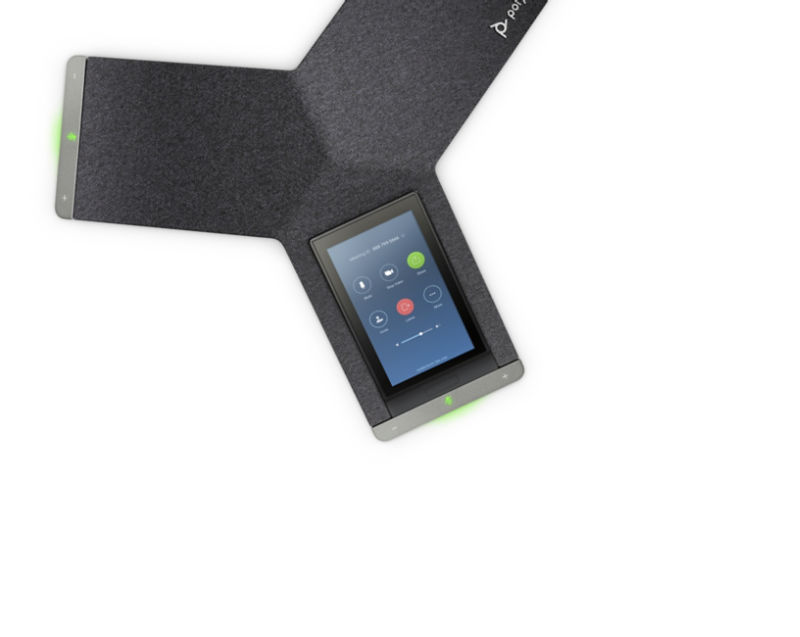 Poly signature audio
One-touch join
Simple meeting control
For a conference call that gets results, Poly audio ensures every inflection is heard, without the distracting background noise. Hear their reaction with up to 22 kHz of rich, full sound.
Join a meeting in seconds with a single touch of a button and keep your meeting time productive.
Complement your Studio X50, X30 or G7500 video solution with fast, simple control from the Trio C60.
Nous travaillons partout où vous le faites
Optimisez votre investissement technologique avec les téléphones de conférence Poly.   Notre engagement à l'égard des normes ouvertes et de l'interopérabilité nous permet de disposer d'une solution qui vous convient.
C60
C60
Specifications
User Interface

Gesture-based, multitouch-capable capacitive touch screen
5-inch color LCD (720 x 1280 pixel), 9:16 aspect ratio
On-screen virtual keyboard
One USB 2.0 Type A-compliant port
One USB 2.0 Micro-B device port for use as USB audio device and content sharing
Integrated Bluetooth 5.0
Three multi-colored mute indicators and three sets of capacitive touch volume and mute buttons.
User interface localized in Arabic, Chinese, Danish, Dutch, English (Canada/US/UK), French, German, Italian, Japanese, Korean, Norwegian, Polish, Portuguese, Russian, Slovenian, Spanish and Swedish

Audio Features

Three MEMS microphones for 360 degree mic pick up

Loudspeaker

Frequency: 100—22,000 Hz
Volume: 92 dB at 0.5-m peak volume

6.1 m/20 ft microphone pickup range

Supported codecs:

G.711 (A-law and μ-law)
G.719
G.722, G722.1, G722.1C
G.729AB
Poly Siren 7, Siren 14
iLBC (3.33 Kbps and 15.2 Kbps)
Opus (8 Kbps–24 Kbps)
SILK
Poly Acoustic Clarity technology provides full-duplex conversations, acoustic echo cancellation and background noise suppression–Type 1 compliant (IEEE 1329 full duplex)

Poly NoiseBlockAI
Voice activity detection
Comfort noise generation
DTMF tone generation (RFC 2833 and in-band)
Bluetooth device pairing (HFP/AD2P) (not available on Trio C60 no radio version)
Low-delay audio packet transmission
Adaptive jitter buffers
Packet loss concealment

Call Handling Features (May be dependent on configuration and ecosystem)

Up to three lines
Shared call/bridged line appearance
Distinctive incoming call treatment/call waiting
Call timer and call waiting
Call transfer, hold, divert (forward), pickup
Called, calling, connected-party information
One-touch speed dial and meeting join
Local five-way audio conferencing
Daisy-chain up to three
Do-not-disturb function
Local configurable digit map/dial plan
Corporate directory access using LDAP
Visual conference management

Network

Open SIP
Skype for Business certified
Microsoft Teams certified
IETF SIP (RFC 3261 and companion RFCs)
SDP

Two-port gigabit Ethernet switch

10/100/1000Base-TX across LAN IN and LAN OUT
LAN OUT port supports IEEE 802.3af PSE

Wi-Fi network connectivity (MIMO)1

2.4–2.4835 GHz (802.11b, 802.11g, 802.11n HT-20)
5.15–5.825 GHz (802.11a, 802.11n HT-20, HT-40; 802.11ac HT-20, HT-40, HT-80)

Management

Poly Lens
PDMS-E, PDMS-SP
RealPresence Resource Manager (v. 10.9 or above) based provisioning
Manual or dynamic host configuration protocol (DHCP) network setup
Poly Zero Touch Provisioning
FTP/TFTP/HTTP/HTTPS server-based central provisioning
Provisioning and call server redundancy support
Time and date synchronization using SNTP

Security

802.1X authentication and EAPOL
Media encryption via SRTP
Transport layer security (TLS) v 1.2
Encrypted configuration files
Digest authentication
Password login
Support for URL syntax with password for boot server address
HTTPS secure provisioning
Support for signed software executables

Wi-Fi encryption*: WEP, WPA-Personal, WPA2-Personal, WPA2-Enterprise with 802.1X (EAP-TLS, PEAP-MSCHAPv2)

*Not available on Trio C60 NR (no radio) version

Power

LAN IN: Built-in auto-sensing IEEE 802.3at. PoE Device (Class 4) (requires full Class 4 power input on LAN IN for operation Class 0 if no PSE). Backward compatibility with IEEE 802.3af
LAN OUT: Built-in auto-sensing IEEE 802.3af power sourcing equipment (requires full Class 4 power input on LAN IN for operation)
C60
Resources
Trio C60 Datasheet
Learn about the features, benefits and technical specifications of the Trio C60
Download Fiche technique
Find our resources, downloads, and software, or contact support for more assistance.
view all support
C60
Support
Find our resources, downloads, and software, or contact support for more assistance.
view all support
Etapes suivantes
Passez à l'étape suivante
Prêt à déployer une solution de communication de classe mondiale ? Poly est là pour vous aider. Contactez-nous ou contactez un partenaire Poly certifié de votre région dès aujourd'hui pour commencer.
Contact Sales
Contact us by filling out the information below. Our sales team will get back to your inquiry within 24 hours.
Compare Trio Conference Phones
Use the dropdown to compare products
| | | | |
| --- | --- | --- | --- |
| | | | |
| | | | |
| Nombre recommandé de participants | 8+ | Up to 5 | 8+ |
| Ecran | 5" color touch display | 3.5" LED w/ classic 12-key keypad | 5" color touch display |
| Portée du microphone | 6.1m / 20' | 3.7m / 12' | 6.1m / 20' |
| USB et Bluetooth | | | |
| NoiseBlock | NoiseBlock AI | | |
| Connectivité réseau WiFi | 2.4-5 GHz | 2.4-5 GHz | 2.4-5 GHz |
| En guirlande | Up to 3 | | Up to 3 |
| Options de visioconférence et de partage de contenus | With Studio X50/X30 or G7500 | With Visual+ | With Visual+ or VisualPro |
| Idéal pour | Any room size requiring the best conference phone performance and hassle-free collaboration | Small rooms requiring rich audio quality with a simple touch interface | Larger rooms requiring the best conference phone performance with a simple touch interface |