액세스 가능성
Skip to content
Get the most out of your UC deployment
Success for any new communication roll out will be gauged by adoption – ensure your users have a great first experience.
Drive Adoption
Until now, rolling out new headsets and managing user adoption across the enterprise was a major challenge. Combined with Plantronics Hub, Plantronics Manager Pro allows IT managers to configure devices to be truly plug-and-play, so users can start using their new headsets more easily. Plantronics Manager Pro also creates reports on where and how headsets are being used, letting IT reach out to users who need additional training or assistance.
Discover how Plantronics Manager Pro data can connect to existing UC monitoring applications from our approved software partners for a centralized solution. Learn more
The Plantronics app for Microsoft Power BI allows you to instantly visualize your inventory of headsets, softphones and related software, such as Plantronics Hub, with starter dashboard tiles and reports leveraging your Plantronics Manager Pro data. Learn more
Deploy Plantronics Manager Pro before any new UC roll out to understand what devices and softphones are already in use
Monitor roll out of devices – identify users who have yet to connect a device
Monitor UC adoption to quickly identify those users who have yet to make a call
Benefits
Benefits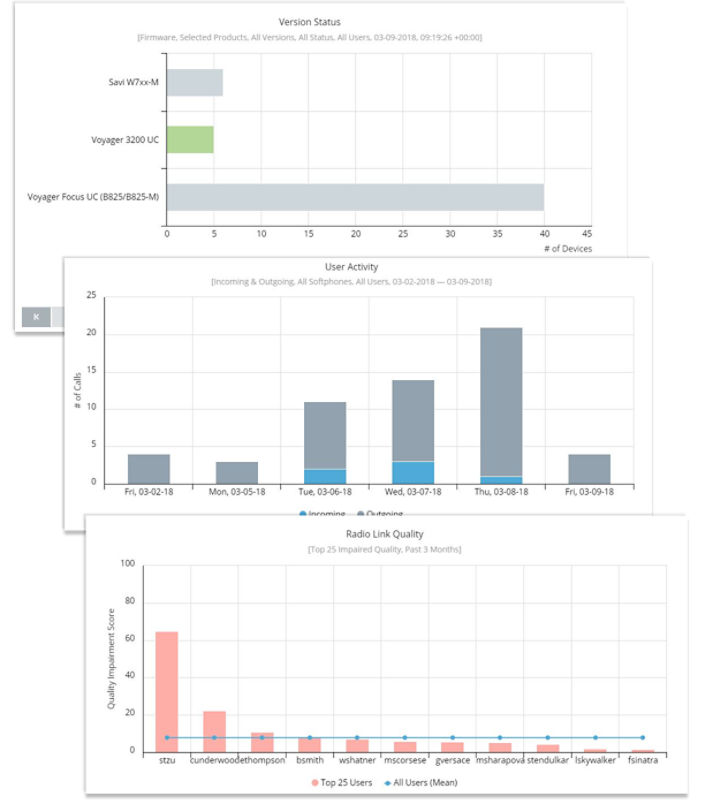 Simplified deployment
Lifecycle Management
Manage headsets connected to mobile devices
Save time and money by simplifying the deployment and troubleshooting of devices from a simple-to-use tool without having to go from desk to desk. Policy-based management ensures a great first user experience and allows you to customize user settings to your environment.
With hundreds—even thousands—of headsets to manage, dealing with individual needs can be time-consuming and labor-intensive. Plantronics Manager Pro offers a powerful solution to configure settings, update audio device firmware and help troubleshoot issues. It also provides detailed inventory and adoption reports to help you keep track of your investment. Track firmware versions – to ensure compliance across both mobile and computer connected headsets. Track device usage to ensure you have the right device for the different workstyles within your company, identify devices that may be out of warranty, and learn if certain device types are not being used. Quickly troubleshoot audio quality issues that are related to the Bluetooth radio link.
With your workforce becoming more flexible and the increased use of the mobile device as the primary communication platform, the need to support these devices is greater. Plantronics Manager Pro can manage and maintain supported Poly Bluetooth headsets connected to mobile devices thanks to the Plantronics Hub for mobile application. Include mobile connected headsets in your inventory reports for a complete view. Create policies that can be applied to both computer and mobile connected devices
Services
Get the most out of Plantronics Manager Pro
Choose Plantronics Manager Pro Onboarding and Adoption Service - the professional service that provides in-depth guidance. Up to four hours of knowledge transfer. And monthly check-ins over a three-month period. Schedule your Plantronics Manager Pro Get Connected Service that's included to see the basics and learn how to get set up for success. With these services you'll be a hero in no time, steering your organization toward 100% headset adoption.