EncorePro 500 USB Series
Corded USB Headset
Hear and be heard with incredible clarity
Count on impressive durability and reliability
Enjoy all day comfort and effortless control
Gain greater insights with Plantronics Manager Pro
500 USB
Overview
The headset for call center heroes
Designed and engineered just for them, it's everything your contact center representatives would ever want in a headset. This headset offers superior audio, all-day comfort, rock-solid reliability, and long-term durability. It's built for intense usage and uptime—so wearers stay connected. And with Plantronics Manager Pro software, as an added service, IT managers can remotely track and manage headsets company-wide.
Benefits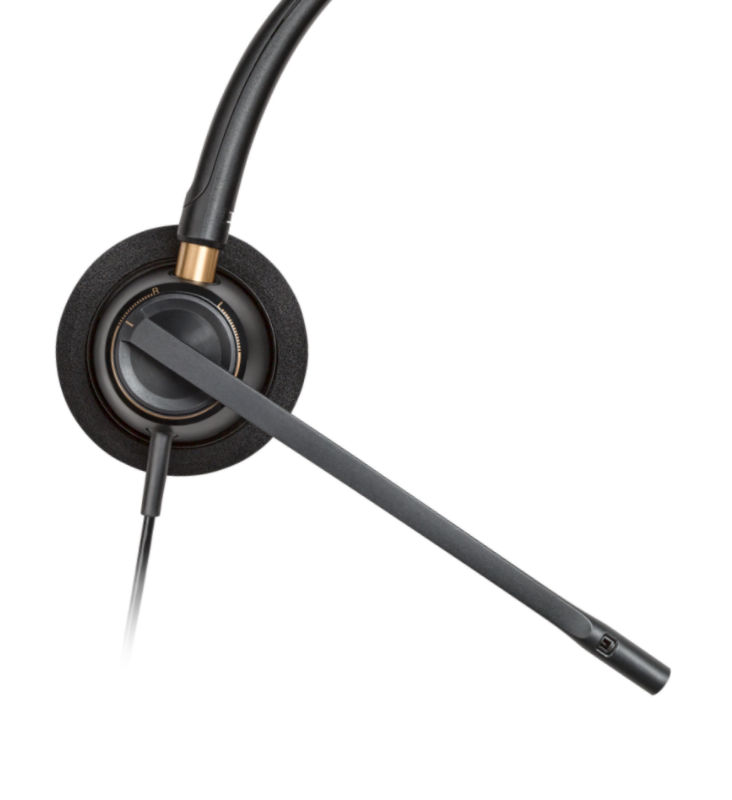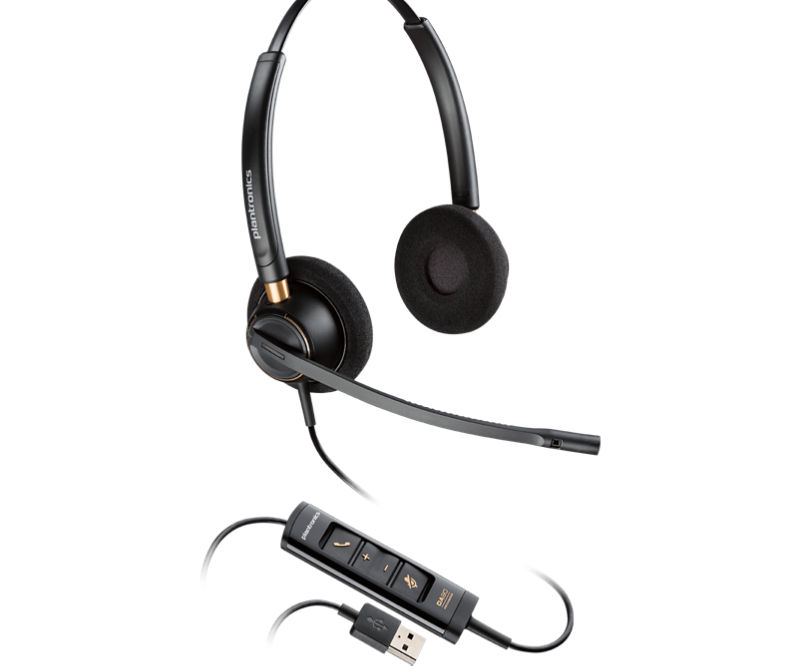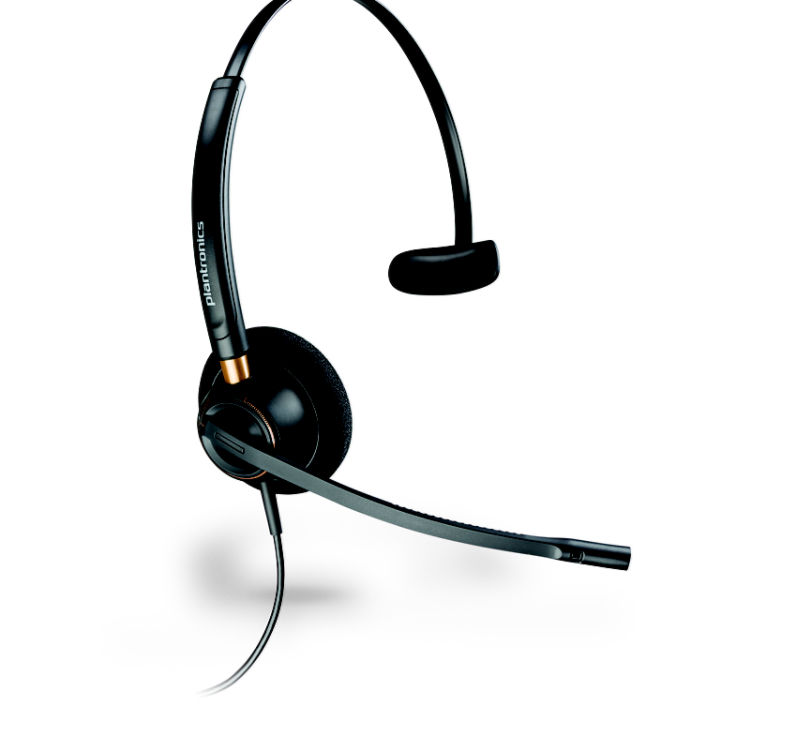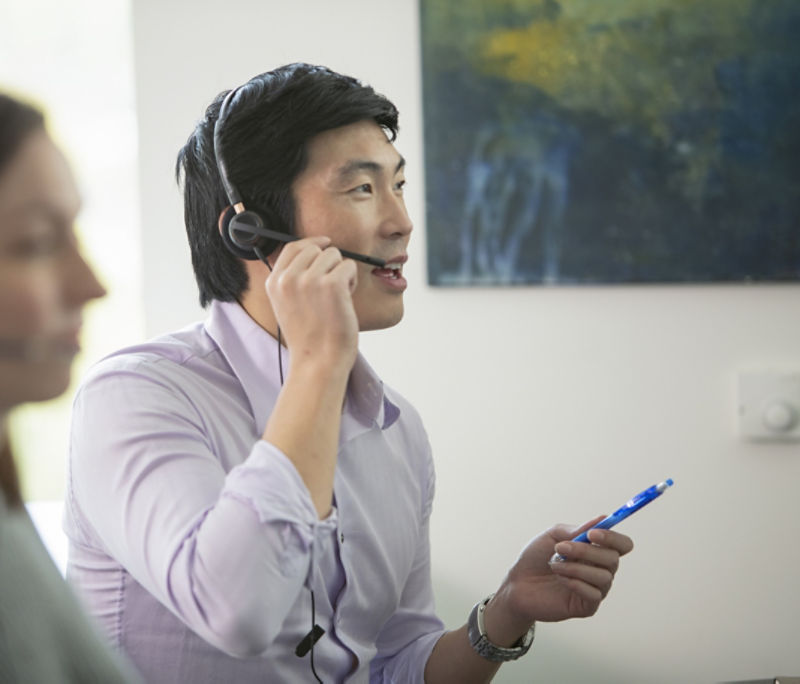 Get incredible call clarity
Count on durability and reliability
Enjoy comfort and control
Simplify Management
Visual and tactile cues make sure you know when your flexible, noise-canceling microphone boom is well positioned for great voice pickup. And you get better sound quality and clearer conversations through our voice-optimized frequency response that focuses in on the sound of voices.
These headsets feature durable design for all-day use in the contact center, with less breakages and downtime to save the organization time and money.
Ensure your employees are comfortable and ready to represent your brand at their best. Premium design and light weight combine to deliver our best-selling contact center headset.
Make it easy for your IT team to monitor, manage and maintain headsets and track detailed device insights with centralized Plantronics Manager Pro software (an additional service).
All Poly USB contact center solutions are compatible with the most popular voice platforms – we just work. Poly solutions provide excellent audio quality for you and your customer – no matter your platform of choice.
Poly is certified (when offered) with all major communication platforms. 
500 USB
Models
EncorePro 545, Convertible, Monaural, Noise-Canceling

PN: 203474-01

EncorePro 535, Over-the-ear, Monaural, Noise-Canceling

PN: 203446-01

EncorePro 525 Over-the-head, Stereo, Noise-Canceling

PN: 203444-01

EncorePro 515, Over-the-head, Monaural, Noise-Canceling

PN: 203442-01
500 USB
Specifications
Connects to

Ideal for

Telephone intensive users, including formal customer care centers and customer service organisations where employees have their own desks

Audio performance

Wideband audio (up to 6,800 Hz), noise canceling microphone

Hearing protection

SoundGuard digital: G616 support limits the level to 102 dBSPL; Time weighted Average (TWA) prevents average daily sound exposure from exceeding 85 dBA or 80 dBA. Built in support helps IT meet the appropriate Noise at Work regulations

Softphone compatibility

Certified for Skype for Business and Optimized for Microsoft® Lync®. Built for UC applications and softphones from Avaya, Cisco and others **
** Requires Plantronics Hub
500 USB
Resources
EncorePro 500 USB Series Data Sheet
Learn about the features, benefits and technical specifications of the EncorePro 500 USB Series
Download Data Sheet
Acoustic Protection
EncorePro 500 USB Series features Soundguard Digital to protect users' hearing and improve listening comfort while maintaining natural sounding speech
Learn More
Experience the high audio quality of Poly's EncorePro 500 USB Series even when wearing a mask
If you or your employees need to wear a mask while working, you may be concerned about how clear you sound on a call. The design of Poly's EncorePro 500 USB Series ensures your voice remains clear while you comply with local safety requirements.
500 USB
Support
Find our resources, downloads, and software, or contact support for more assistance.
view all support
Contact Sales
Contact us by filling out the information below. Our sales team will get back to your inquiry within 24 hours.