Trio 8500
Smart conference phone for any-sized meeting space
Hear and be heard with outstanding clarity
Collaborate using audio, video and more
Use your favorite platform to connect with ease
8500
Overview
Mid-sized rooms, your champion has arrived.
Turn your mid-size conference rooms into amazing spaces for collaboration with one simple addition: the Trio 8500 conference phone.
Launch meetings with a single touch. Video conferencing and content sharing can be easily added, ensuring future-proof flexibility. USB and Bluetooth® are built in, so you can use your device of choice.
Benefits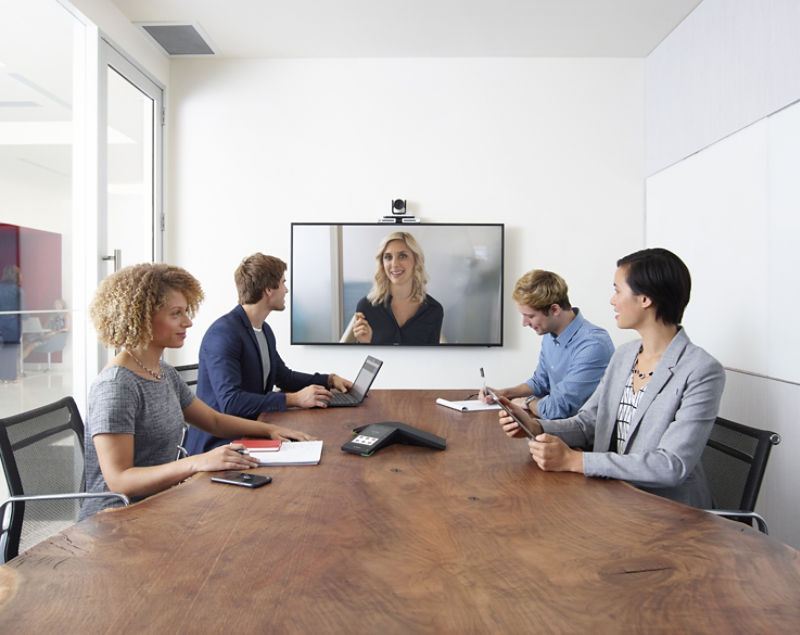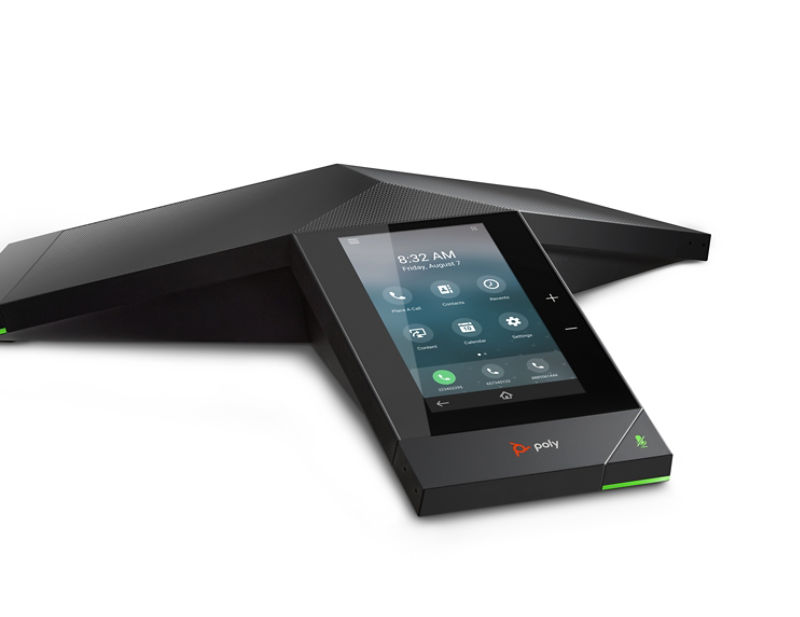 Every word comes through
More and better collaboration options
Platforms you trust
Want conference calls that get results?
The Trio 8500's conference phones next-level Poly Acoustic Clarity tech delivers every inflection and no distracting background noise. People hear each other's reactions with up to 14kHz of rich, full sound.
And now you have the freedom to choose.
Enhance your meeting with super-sharp audio, video, content or all three. This variety of powerful meeting options helps your teams make decisions faster.
You've got options. You're welcome!
Connect to the platform you like best — or choose more than one with Poly's hybrid registration.
Works everywhere you do (and beyond)
Poly conference phones work on more than 60+ communication platforms — most with a native user experience. Choose the one that works for you!
Poly is certified (when offered) with all major communication platforms. 
In selecting a conferencing technology, our main driver was ease-of-access. We wanted people to be independent so that communication and collaboration could be fostered at the level we needed
Gianluca D'Aniello
, SVP and CTO
8500
Specifications
User interface features

Gesture-based, multitouch-capable capacitive touch screen
5-inch color LCD (720 x 1280 pixel), 9:16 aspect ratio
On-screen virtual keyboard
1x USB 2.0 Type A-compliant host port USB battery charging BC1.2 compliant (requires full Class 4 power input on LAN IN for operation)
1x USB 2.0 Micro-B device port
Integrated Bluetooth 4.0
3 illuminated mute buttons
Unicode UTF-8-character support
User interface localized in Arabic, Chinese, Danish, Dutch, English (Canada/US/UK), French, German, Italian, Japanese, Korean, Norwegian, Polish, Portuguese, Russian, Slovenian, Spanish and Swedish

Audio features

3 cardioid microphones

Loudspeaker

Frequency 180-14,000 Hz
Volume: 90 dB at 0.5m peak volume

14ft/4.3m microphone pickup range

Supported codecs:

G.711 (A-law and μ-law)
G.722
Siren™ 7

HD Voice™
Acoustic Clarity technology provides full-duplex conversations, acoustic echo cancellation and background noise suppression— Type 1 compliant (IEEE 1329 full duplex)
NoiseBlock™
Voice activity detection
Comfort noise generation
DTMF tone generation (RFC 2833 and in-band)
Low-delay audio packet transmission
Adaptive jitter buffers
Packet loss concealment
Bluetooth device pairing for wideband speech and multimedia streaming (HFP/AD2P)
Call handling features
Up to 3 lines (max. 1 Skype for Business)
Shared call/bridged line appearance
Distinctive incoming call treatment/call waiting
Call timer and call waiting
Call transfer, hold, divert (forward), pickup
Called, calling, connected- party information
Local five-way audio conferencing
Daisy-chain up to three
One-touch speed dial
Do-not-disturb function
Local configurable digit map/dial plan
Corporate directory access using LDAP
Visual conference management

Network and provisioning

Open SIP
Skype for Business certified (conference phone only)
Microsoft Teams certified (conference phone only)
Zoom certified
SDP
IETF SIP (RFC 3261 and companion RFCs)
Single-port gigabit Ethernet 10/100/1000Base-TX across LAN
Manual or dynamic host configuration protocol (DHCP) network setup
Time and date synchronization using SNTP
FTP/TFTP/HTTP/HTTPS server-based central provisioning
Zero Touch Provisioning
Provisioning and call server redundancy supported

QoS Support

IEEE 802.1p/Q tagging (VLAN), layer 3 TOS, and DSCP

VLAN-CDP, DHCP VLAN discovery
LLDP-MED for VLAN discovery

Security

FIPS 140-2 compliant cryptographic module
802.1X authentication and EAPOL
Media encryption via SRTP
Transport layer security (TLS v1.2)
Encrypted configuration files
Digest authentication
Password login
Support for URL syntax with password for boot server address
HTTPS secure provisioning
Support for signed software executables

Power

LAN IN: Built-in auto-sensing IEEE 802.3at. PoE Device (Class 4)1. Backward compatibility with IEEE 802.3af
Optional Power kit includes extended single-port gigabit midspan, 802.3at Type 2 compliant, local power cord and network cable (2200-66740-xxx)

Approvals

Japan MIC/VCCI Class B
FCC Part 15 (CFR 47) Class B
ICES-003 Class B
CISPR22 Class B
VCCI Class B
EN61000-3-2; EN61000-3-3
NZ Telepermit
Australia RCM
ROHS compliant
Energy Star® compliant

Radio

US

Canada

EU

Japan

Australia

Safety

UL 60950-1
UL 62368-1
CE Mark
CAN/CSA-C22.2 No. 60950-1-03
CAN/CSA C22.2 No. 62368-1-14EN 60950-1
EN 60950-1
EN 62368-1
IEC 60950-1
IEC 62368-1
AS/NZS 60950-1
AS/NZS 62368-1-17

Environmental conditions

Operating temperature: 0° to 40°C (+32° to 104°F)
Relative humidity: 5% to 95% (non-condensing)
Storage temperature: -20° to +70°C (-4° to +160°F)

Accessories (optional)

Trio 8500 Expansion Microphones (2200-65790-001)
USB 2.0 Cable, 4ft/1.2m (2200-49307-002)

POLY TRIO 8500 SHIPS WITH:

Open SIP Conference phone 2200-66700-025 OR Skype for Business or Microsoft Teams conference phone 2200-66700-019
7.6 m/25 ft network cable CAT 5e
Cable wrap
Tactile overlay for improved accessibility
Setup sheet

Warranty

Phone dimensions (L x W x H)

Phone weight

Box dimensions (L x W x H)
8500
Related Products
Accessories
Similar
Software & Services
8500
Resources
Trio 8500 Data Sheet
Learn about the features, benefits and technical specifications of the Trio 8500.
Download Data Sheet
Trio Video Solutions Data Sheet
Learn about the features, benefits and technical specifications of the Trio Video Solutions.
Download Data Sheet
Trio Infographic
Trio is the smartphone for your modern conference rooms. See how Trio transforms conference rooms of any size into hassle-free spaces for team collaboration.
Download Infographic
Top 10 Reasons to Love Poly Trio
Learn more about Top 10 Reasons to Love Poly Trio.
Download User Guide
Introducing Poly Trio
Learn more about introducing Trio.
Introducing Trio 8500
Learn more about introducing Trio 8500.
Poly Trio Hybrid Registration
Learn more about Trio Hybrid Registration.
8500
Support
Find our resources, downloads, and software, or contact support for more assistance.
view all support
Next Steps
Ready to deploy a world-class communications solution? Poly is here to help. Contact us or a certified partner in your area today to get started.
Contact Sales
Contact us by filling out the information below. Our sales team will get back to your inquiry within 24 hours.
Compare Trio Conference Phones
Use the dropdown to compare products
| | | | |
| --- | --- | --- | --- |
| | | | |
| | | | |
| Ideal For | Mid-size rooms requiring robust audio conferencing with a simple touch interface | Small rooms requiring rich audio quality with a simple touch interface | Larger rooms requiring the best conference phone performance with a simple touch interface |
| Recommended # of participants | Up to 8 | Up to 5 | 8+ |
| Display | 5" color touch display | 3.5" LED w/ classic 12-key keypad | 5" color touch display |
| Mic pickup range | 4.2m / 14' | 3.7m / 12' | 6.1m / 20' |
| USB & Bluetooth | | | |
| Daisy-chain | Up to 3 | | Up to 3 |
| Video conferencing & content sharing options | With Visual+ or VisualPro | With Visual+ | With Visual+ or VisualPro |
| NoiseBlock | | | |
| Wifi Network Connectivity | | 2.4-5 GHz | 2.4-5 GHz |