Accessibility
Skip to content
Brilliant sound for your teams
Free your conversation from the friction of terrible audio and hear and be heard with incredible clarity. Poly offers the broadest set of Microsoft Teams desk phones, conference phones and speakerphones that reduce noise and enhance Microsoft Teams calling. With innovative technologies, attractive ergonomic designs, and simplicity, Poly has you covered.
Benefits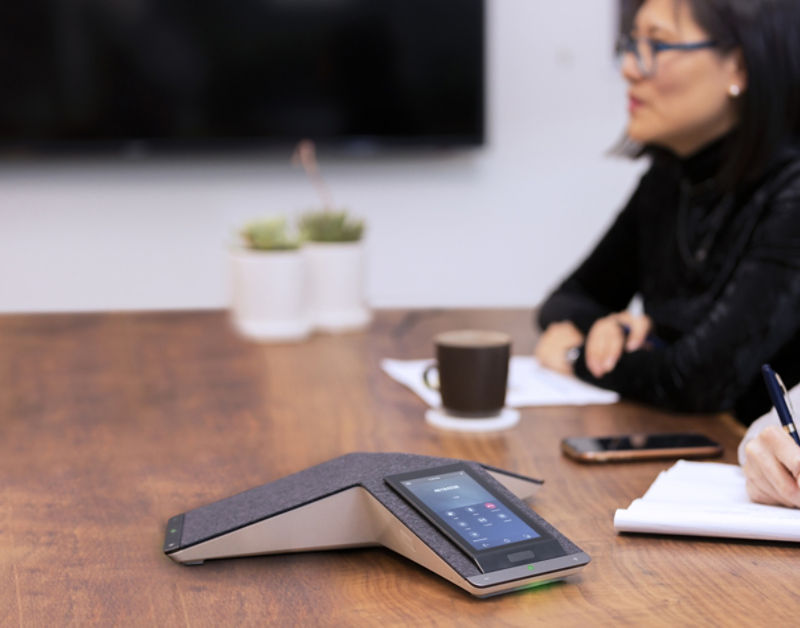 Capture every nuance
Use with ease
Work the way you want
Shut out the distractions and keep the focus
You can count on Poly audio. With breakthrough innovations like NoiseBlock AI, smart multi-microphone arrays and Acoustic Fence, conversations stay fluid and natural with incredible clarity. It's like being in the same room.
Free to think, make your point
No one has time to waste learning five ways of doing the same thing. The native Microsoft Teams experience is familiar, consistent and easy to use. So nothing distracts you from closing your million-dollar deal or pitching your new idea.
We're all about choices
Do you prefer headsets instead of traditional handsets at your desk? Need to host big meetings in large conference rooms? Or grab your speakerphone from home and throw it in your backpack for a customer meeting? No problem. We have the right solutions for the way YOU work.
Smart conference phone for any meeting space

Smart conferencing for rooms of every size. Brilliant audio without interruptions. And the Trio C60 plays nicely with everyone, delivering native experiences on your favorite collaboration platforms.

Personal, USB/Bluetooth smart speakerphone

Let's face it: the audio on your laptop and smartphone aren't great. Sound like the professional you are with Poly Sync 20 USB/Bluetooth smart speakerphone—for remarkable audio anywhere.

Smart speakerphone for flexible/huddle rooms

Business moves fast. Joining virtual meetings should be fast, too. Poly Sync 40 USB/ Bluetooth® smart speakerphone lets users get straight to work. Hassle-free with remarkable sound—perfect for flexible and huddle workspaces.

Smart Speakerphone for Conference Rooms

Everyone deserves to hear the whole meeting—loud and clear. Poly Sync 60 USB/ Bluetooth® smart speakerphone is perfect for conference rooms. Voices are the focus, not the noise, so no one misses a thing.

Performance business media desk phone with large color touchscreen

A larger screen can make all the difference. The CCX 600 business media phone boasts a 7" screen—perfect for managers and executives, and anybody who needs more room to do their thing. Count on Poly's legendary audio quality, so conversations stay on track. The CCX 600 is fast and responsive, designed with the latest powerful chipsets. And it's easy to install anywhere—Wi-Fi is included.

Mid-range business media desk phone with color touchscreen.

Meet the new standard in touch screen desktop phones. The CCX 500 and CCX 505 business media phones have workers feeling confident they'll sound professional on every call. No word or inflection is missed, thanks to Poly legendary audio quality. Install anywhere with Wi-Fi included on the CCX 505. Robust provisioning and management capabilities take the headache out of telephony deployment and support.

Entry-level business media desk phone with color touchscreen.

Sometimes all you need is a reliable desktop phone with touch screen convenience. An always-on, always-ready phone you can always count on. The CCX 400 is an entry-level business media phone that's easy to use. Its interface is simple and intuitive. And contacts and meetings are one tap away on a color touch screen.

Entry-level IP desk phone

Get everything you want from a desk phone: The CCX 350 IP phone offers legendary HD audio from Poly and full Microsoft Teams integration, giving you phenomenal value at a great price.
Next Steps
Ready to deploy a world-class communications solution? Poly is here to help. Contact us or a certified partner in your area today to get started.